Greetings from Director of CHEGA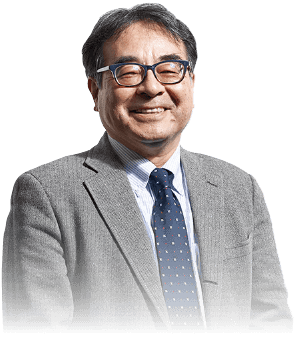 I would like to thank you for visiitng the website of the Center for the Study of Higher Education and Global Admissions.
CHEGA, the Center for the Study of Higher Education and Global Admissions, was established in June of 2016. Though our newly established center is not so large, we have a very important role to play at Osaka University. Osaka University prides itself in selecting and admitting diverse, brilliant students from within Japan and overseas, offering world-class education on par with global educational standards, and nurturing globally competitive individuals. Our mission at CHEGA is to support Osaka University through perpetual education and admission reforms.
At the same time, we also strive to share the knowledge and skills gained from admission and education reforms with those at Osaka University, and our partners in Japan and overseas. In order to achieve our goals, it is essential for us to receive support and guidance internally from Osaka University, as well as externally, from our many education partners domestic and international. We welcome any and all advice in order to build a better future.
June 2016
Tatsuo Kawashima Director of CHEGA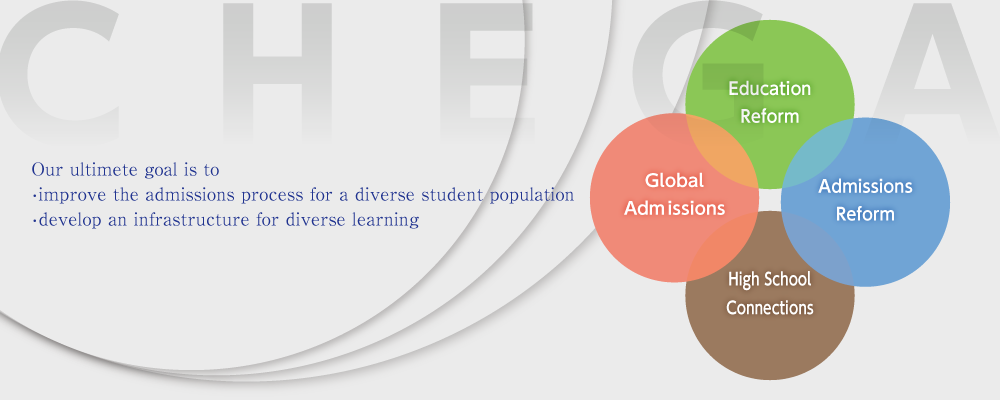 CHEGA Vision
Conduct empirical research to promote education and admission reforms
CHEGA was established on June 1st, 2016, by merging and reorganizing the former Institute for Academic Initiatives Education Reform Team and the former Global Admissions Office. Along with assuming previous responsibilities of traditional educational reforms and implementing the Special Entrance Examination for Privately-Funded International Students Living Overseas, we acquired the additional task of conducting university admissions research and reform. Our center is committed to a project called the "Globally Admired Osaka University Applicants Selection Improving System" (2016 – 2022). The scope of our project is to provide complete solutions to common challenges colleges and universities face, as well as contribute to the shift of the admissions review process to a holistic approach.
As a hub organization for educational and admission reforms, each division will be involved in activities aimed towards enhancing high school and university connections in Japan, as well as developing the overall quality of university education.
Introduction of CHEGA Team and its Mission
Education Reform Team
Work toward achieving mid-term goals and mid-term plans on educational activities at Osaka University
Establish an internal quality assurance cycle for education to maintain global standards of education
Strengthen educational frameworks to promote learner-centered learning
Global Admissions
Implement the Special Entrance Examination for Privately-Funded International Students Living Overseas
Examine the international student selection process
Admissions Reform
Develop a holistic admissions review process
Review the validity of Osaka University's admissions policy for undergraduate schools/faculty and improve the student selection process
Train admissions professionals
Develop a database of high schools for fair admission reviews
Develop the web system
High School Connections
Offer events to connect high schools and universities
Collaborate with Boards of Education and organize events together
Organize events in cooperation with related departments at Osaka University
Provide seminars to high school teachers to improve teaching strategies for inquiry-based learning
Staff
Director & Professor

  Tatsuo KAWASHIMA

Associate Director & Professor

  Kouichi FUKASE (Graduate School of Science)

Professor

  Shuichi SHINDO (Graduate School of Language and Culture)

Specially Appointed Professor

  Jim RAWLINS (Cross Appointment with University of Oregon)

Specially Appointed Professor

  Susan ALBERTINE (Cross Appointment with AAC&U)

Professor

  Yaeko MITSUMORI

Professor

  Hitoshi YAMASHITA

Associate Professor

  Yukiko ABE(Center for Education in Liberal Arts and Sciences)

Associate Professor

  Yuichiro WAJIMA

Specially Appointed Associate Professor

  Yukiko ISHIKURA

Specially Appointed Associate Professor

  Chihiro TAGAWA

Specially Appointed Associate Professor

  Mayo YOSHIMOTO

Specially Appointed Assistant Professor

  Kenji INOUE

Specially Appointed Assistant Professor

  Hong Gun KIM

Specially Appointed Researcher

  Hiroko OHTOMO
Administrative Staff(Admission Division, Department of Education and Student Affairs, Administration Bureau)
Assistant Head

  Masashi TANAKA

Chief

  Hiroyuki MORI

Administrative Employee

  Kayoko AYASHIRO

Administrative Employee

  Kumi SHINOKI

Administrative Employee

  Yoshimi MORITA

Administrative Employee

  Satoko YAMAMOTO
Organizational Structure